We are living in times of digital transformation. The latest Global Games Market Report predicts that 2.3 billion players in the world will spend nearly $140 billion on games. Each year, there is an average 15% increase in sales.
Currently, the vast majority of players find themselves unable to trade their games, accounts and items in a completely secure way. Reports of scams are rampant on the internet and it can seem challenging to trade what rightfully belongs to every gamer, their invested time and money. The revolution in gaming has only began as the rise of new technologies emerges.
Virtual Reality (VR), Augmented Reality (AR) and Mixed Reality (MR) will provide an ever-growing influx of consumers. We see this as a major challenge for the coming years, as little effort is being placed to offer gamers the possibility of exchanging their virtual acquisitions. You can do more with us. Our project aims to connect your gaming universes together into one Token one value for your valuables. May it be MOBAs, MMORPGs, FPS, RTS, we will do our utmost to remain on the forefront of trading solutions for your favorite titles.
One of our long-term goals is to offer a safe environment for Real-Money | Trading (RMT). How much money is RMT really worth? Billions. This was a figure provided by the World Bank in 2011. The bank analyzed the virtual world economy and determined that in 2009, over 3 billion dollars was paid for RMT services delivered by countries having lower wages. Billions of dollars were spent by players for character progress in their favorite games. Our hope is to insure fair trades between players which would include the security needed for such transactions. We are aware of the current demand. as well as the lack of adequate offer in this domain. Millions of players are affected by these issues and our project is targeted at resolving the difficulties encountered by the gaming community. We realize the road will be paved with many obstacles and our team is already in touch with major actors in the video-game industry to face and overcome these obstacles. The Orionix team is dedicated to meet the needs of players and fulfill the demand in this unexplored market.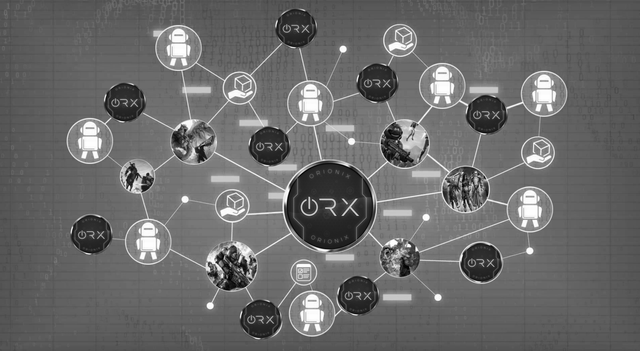 ORIONIX is rather called a new revolution gaming platform for all gaming developers and enthusiast. This aspect of the industry is rapidly developing due to its luxurious innovations, in which virtual reality (VR) is only part of it. Since this progression occurred, little has changed regarding the liberalization of items, skins and accounts. There is a huge potential in the world of games, and it is almost never used. We all heard about STEAM, a gaming platform developed by Valve Corp., where users make quick payments to get the games they want into their inventory. This is where Orionix.io enters. A new trading platform in the era of Blockchain technology, specifically designed for the gaming industry to ensure transparency and security. In other words, you can buy, exchange games or decentralized inventory with ORX tokens. The principle underlying the Orionix project is to merge two faces of a single coin. Firstly, the creation of the ORX token according to the ERC-20 standards to ensure the controlled cost of the token, specially created for the purchase and sale of goods and services related to video games. Secondly, a web platform designed with ease of use. ORX can be awarded by counting the time spent on the game and submitting error reports, or simply by transferring game items to the trading platform. I believe that "the new revolution in the gaming industry – Orionix.io" can strengthen it with the help of a correct and reliable foundation.

Problem

However, despite all these positive aspects, many participants in this area are experiencing enormous difficulties. And first of all, these difficulties relate to fraudulent behavior on the part of many platforms and centralized games. Second, many players lose under uncertain circumstances their characters or any valuable skins, which they achieved by long personal labor and spent on game time. As a result, it leads to multibillion losses on the part of players.All these problems tend to accumulate and pour over time into a kind of mass discontent, with which you need to fight in a good way. And to fight over the causes of its appearance, and not over its already gradual manifestation.That is why the developers of one very cool project decided to create such a unique system that would be able to solve not only all the above problems, but also to add additional tools and functions to the world of eSports.

Details Token

Token : ORX
Total Supply 600M ORX
Accepted Currencies : ETH, BTC
Initial Value : 1 ORX = 0.1$

Token Transaction Amount
ORX transaction without maximum limitation of amount
ORX transaction with minimum amount: 0.1 ETH.

Crowdsale
August 1st, 2019 UTC 00:00 – November 1st, 2019 UTC
00:00 or until maximum cap is reached
The base rate is 1 ETH = 2941 tokens

600,000,000 ORX tokens limit. No additional tokens will be created.
Total crowdsale supply = 70% of tokens
420 Million ORX will be distributed among the crowdsale contributors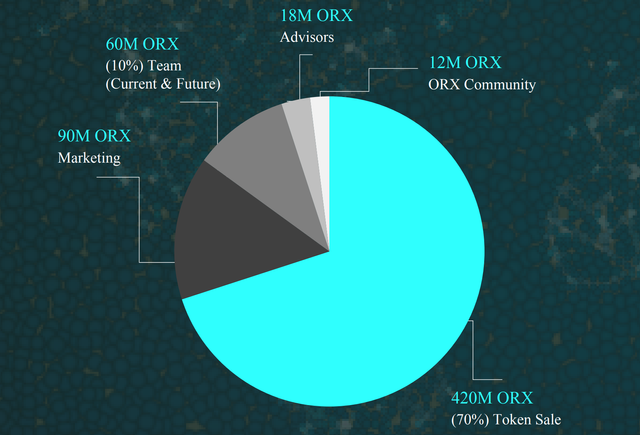 Exchange Listing

ORX tokens will be gradually listed on an increasing number of cryptocurrency exchange platforms where they will be available for stock trading. We are currently in communication to release ORX on multiple exchanges at token launch. The analytical marketing research we ran provides us with a strong indication that the Orionix's platform will attract large numbers of users desiring to buy and sell virtual products which will result in a calculated ORX value boost.





More Information Orionix :