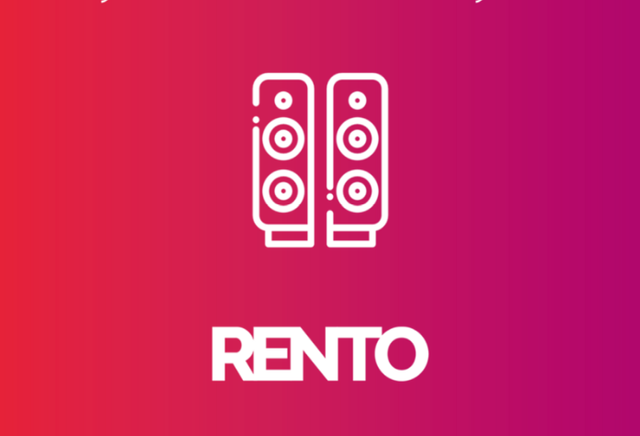 Rento is proposing a global sharing platform for businesses and individuals that allows renting of underutilised assets. Unlike competitors in the market, Rento provides rental of any item to any individual, rather than focusing simply on one market (cars, apartment share). Furthermore, Rento leverages blockchain technology to implement a trusted economy through smartcontracts that ensure rental conditions are met and that the parties can count on one another to deliver and return the product or service. Rento aims to introduce the sharing economy in the daily lives of people everywhere, reducing waste in the economy and allowing more people to enjoy a variety of services and products without having to shoulder the cost of owning every type of item they use.
Solution
Rento is creating a software solution for individuals and businesses to share items and services that, until now, needed to be purchased. The Rento solution is based on the increasing "sharing economy" market, but rather than focus on one vertical, Rento is providing a complete solution, including smartcontracts, for anyone to rent or borrow any item or service. In the same way that ecommerce sites such as eBay do not limit themselves to one type of item, Rento is providing the sharing economy marketplace. Rento is leveraging blockchain technology for the smartcontracts that ensure trust throughout the system.
The concept of sharing economy is built around the use of economic resources to their fullest potential and that is exactly what Rento is aiming to accomplish. Rento proposes a mobile application (and web platform) that allows users to list their unused assets for renting or sharing on its platform. Every listing on Rento includes the key aspects of the asset or resource such as its rental cost, availability schedule, images or video of the actual item, specifications, and terms and conditions specific to the asset.
Rento proposes multiple products and services segments, with its initial focus on businesses and service providers to populate the platform with a large stock of available resources, ensuring that the platform initially has enough inventory for consumers to find it appealing. Rento will be launching with primary listing segments such as household items like lawn mowers or snow blowers, through more commercial offerings such as shared offices and conferencing facilities, construction equipment, parking spaces, and even underutilized human resources. In addition to developing a sharing platform, Rento plans to set up at least one bricks-and-mortar rental store as a proof of concept for its sharing ecosystem.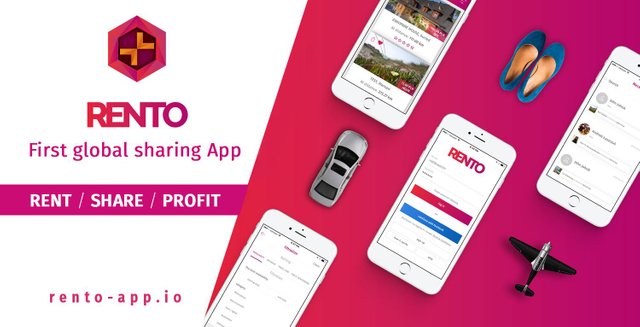 Design feature
The first thing you should pay attention to is the fact that within the framework of this decentralized application it will be possible to easily and quickly make any exchange, safely, transparently, and most importantly profitable, since all operational processes will be fixed by means of smart contracts and recorded in the unchanged Blockchain system.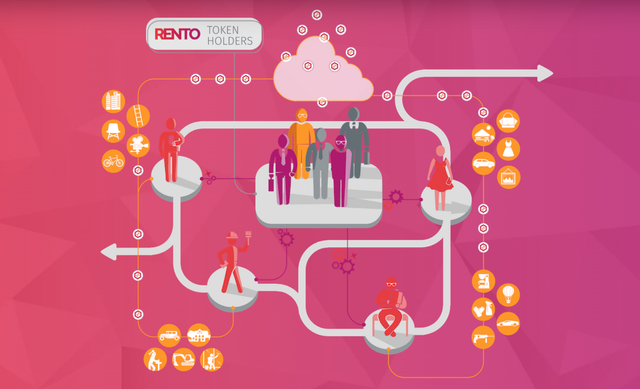 The second important feature of Rento is the ability to choose. It is not limited here, if earlier you could only rent a hotel, apartment or apartment, with the help of Rento you can now rent an office space, any other commercial or even industrial warehouse. All this will be available both within the mobile application and through the website.
Advantages
Thus, Rento offers us incredible opportunities, unlimited banal market directions like car rental, apartment or hotel. With the help of a decentralized application, you can think more widely and get what you want anywhere in the world. This application will be very important for both businesses and individuals, as thanks to the blockchain, Rento is able to reduce transaction fees that centralized companies reach just cosmic amounts, as well as to provide a transparent trust relationship between the parties to the contract.
Moreover, the founders of Rento do not intend to limit themselves only to large objects or objects of rent, they intend to launch the concept of such segments of goods and services, thanks to which you can rent even some household items. It can be a variety of lawn mowers, snowplows, etc. Which I find very interesting.
But again, to avoid any illegal actions all the terms of the contract will be fixed with the help of a smart contract. Where all the necessary information about the operating conditions, the cost of the transaction and other data will be collected. Such an approach would make it possible in the future to resolve any disputes quickly, even if they did arise. And they usually can occur often, because we are all people and we tend to create various kinds of conflicts out of the blue.

About Token
Rento creates an ecosystem for the development of sharing economy. Not only can you reduce consumption, but also profit from sharing unused things you already own. At Rento take care of our investors. By producing cutting edge blockchain technology for securing transactions between users, we create demand for Rento token. While using our blockchain will be optional on our app, it is safe to assume that more users we have the more our token will be worth. Don't wait!
Rento Token is intended for release on servers with cryptocurrencies. Although the initial Rento token is based on ERC 20, the company plans to move Rento to the Proof-of-Authority Blockchain . Although all transactions in the Rento application will be based on intelligent contracts, and it will be possible to make transactions and security deposits in all currencies (crypto and fiat), smart contracts and transactions will be charged only in Rento tokens .
Infomation Token RTO
Token name Rento
Ticker Symbol RTO
Start of public sale 16.10.2018
End of public sale 28.02.2019
Total supply 600 000 000 RTO
Decimal places 8
Token standard ERC20
Network base Ethereum Network
Tokens for sale 264 000 000
Price range for token sale $0.01 - $0.12
Distribution of Funds
60% Technical Development and Team
23% Marketing and Business Development
7% Operations
3% Legal expenses
7% Reserve fund
For more Information :
Website : http://rento-app.io
Whitepaper : https://rento-app.io/assets/whitepaper.pdf
Twitter : https://twitter.com/Rento_app
Facebook : https://www.facebook.com/rentoapp
ANN : https://bitcointalk.org/index.php?topic=5074644.0
Bounty : https://bitcointalk.org/index.php?topic=5076209.0
$crypto$
0xC6F915eDAf2656742D8E692FB45E88734B3dbbbb